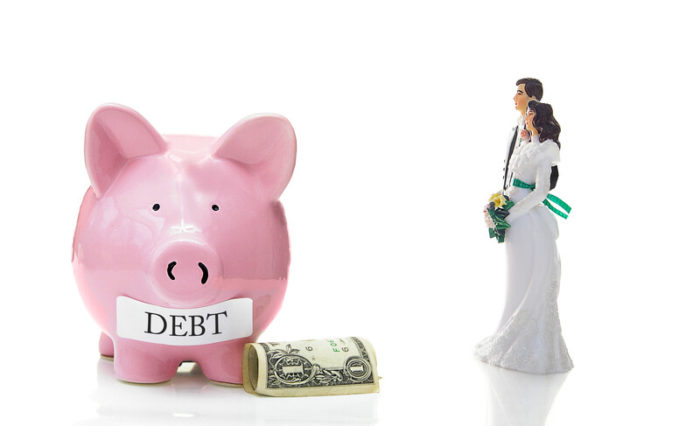 Pay for your Fayetteville wedding with cash and avoid wedding debt. That's the message from Taylor Moore, finance and insurance writer for reviews.com.
She points out that fighting over money is the number one cause of stress in marriages, so starting your wedding off in debt due to overspending on your wedding isn't a good idea.
She provides three steps to avoid wedding debt:
Determine how much you need to SAVE to pull off an affordable wedding.

Then start saving out of your regular income. You'll be so much happier if you do. Factor in how much financial support your family can provide.

Stick to your budget and get creative along the way.
So regarding step three, she encourages couples to honestly assess what they actually need to spend on their wedding. The Wedding Wire may say that an average couple spends $38,700 on their wedding. But that includes pricey locales like San Francisco, New York City, and Boca Raton.
As we've written before, it's less in more 'normal' places like Alabama, Ohio, and North Carolina. Besides, weddings are scalable. You can cut back on guest lists and quantities to bring your budget down to your level.
Ms. Moore suggests that couples make cuts in their current spending to save for the wedding celebration. Do you have a pricey gym membership? Maybe you should forgo it for the next 18 months to save towards your wedding.
As you develop your budget, consider these budget guidelines according to Wedding Wire:
Percentage of Total Budget
Venue/catering/cake/rentals 50%

Photography/videography 12%

Wedding attire/hair/beauty 9%

Flowers/lighting/decor 8%

Reception music 7%

Wedding planner 3%

Invitations/stationery 3%

Officiant/ceremony music 2%

Transportation 2%

Wedding rings 2%

Favors/gifts 2%
Our experience shows that couples are happier when reception entertainment is closer to 10%, because they usually like to include a photo booth. Plus, a DJ entertainment company like Five Star Entertainment provides decor lighting, which typically saves you money over lighting billed to you by your venue.
Ultimately, couples are happiest when they avoid wedding debt. You don't ever need to overspend to create a memorable wedding day as long as your guests are having fun. That's why you should call Five Star Entertainment at 1-910-323-2409. We can create wedding fun for Fayetteville couples on any budget.