Pros and Cons of a tented wedding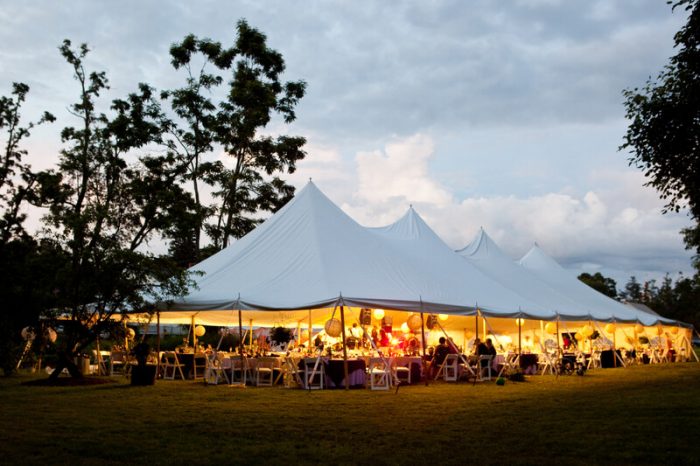 The pandemic required creative thinking when planning weddings. We know that people need human contact, and that weddings are the best way to fulfill that need. That's why tented weddings gained in popularity in the post-pandemic era. Let's examine the pro and cons.
PRO: Outdoor events are safer. Multiple studies confirm that it is much more difficult to contract COVID-19 at outdoor events than indoor ones by a factor of 20, according to one study.
PRO: Creativity. Tented weddings offer you complete creative control of the look of your event. Unlike indoor venues with a pre-set style and built-in elements you can't change, tented weddings provide a blank slate. Five Star Entertainment can work with you to design lighting to complement your flowers, linens, and rented seating to create an amazing, customized look.
Stressful
CON: You've got more decisions to make (see above). Decisions-making causes stress. You'd be wise to use a wedding planner to lighten the load.
CON: Sound is worse outdoors. The easy solution: go with a Fayetteville DJ company experienced with outdoor events offering state-of-the art sound reinforcement. In other words, someone like us.
Beautiful!
PRO: Sheer beauty. A tented wedding is magical. Your guests will melt when they set their eyes on such a festive setting. On average, most people don't experience exquisitely decorated outdoor events all that often. They'll revel in the mood it creates.
CON: The weather. Your guests can also 'melt' if the weather is a scorcher. Or if a storm comes up with driving rains. In other words, a tented wedding injects an element of uncertainty since you can't control the weather. You'll need a back-up venue just in case.
CON: Expense. Tents aren't cheap, and you need to rent everything, including a generator and electrician to hook up everything.
All of the cons mentioned above may be well be worth it, in terms of enhanced health security and decorating freedom. Let's face it, everything comes with trade-offs. But when it comes to the entertainment, there are none with Five Star Entertainment. Whether your event is indoors or out, we offer the experience, expertise and cutting edge technology to ensure your guests have the time of their lives!
Popular dates are filling fast. Don't wait. Check on our availability today.