How to give a 'weird' wedding toast in two minutes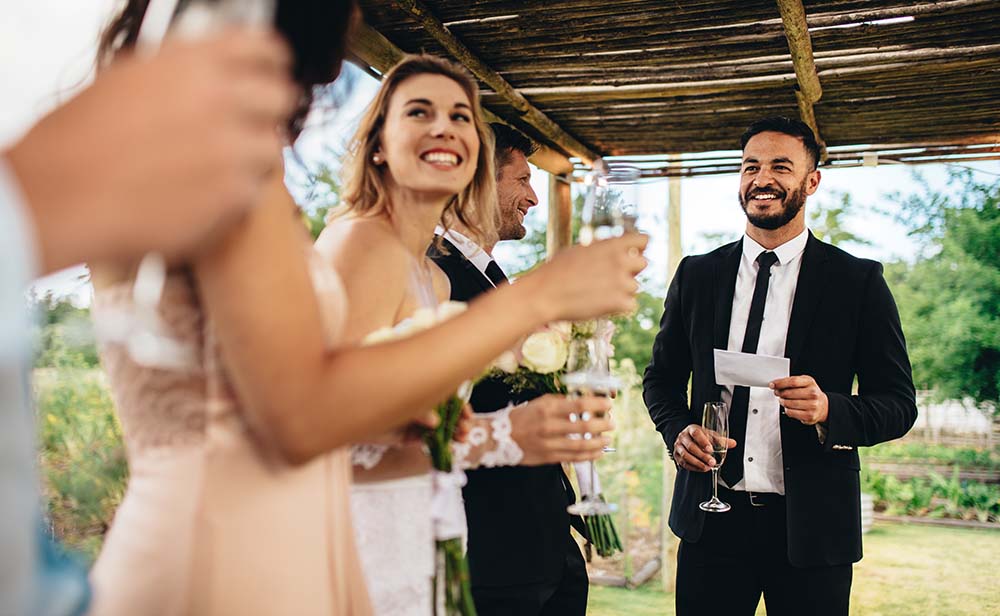 So we were guests at a recent out-of-state wedding. When it came time for the wedding toasts, we held our breath, hoping for the best. Sadly, our hopes weren't realized as the toasts went off the rails, as they so often do. It's so much easier to simply give a weird wedding toast.
We'll explain in a minute. At this wedding, the maid of honor got up and gave a fairly decent toast, complete with anecdotes and crowd interaction.
She talked about her love for her sister (the bride), and how happy she was that her sister was marrying such good man.
All good, but pretty long-winded.
Then the best man got up and gave a decent toast, making all of the most important touch points.
But when the father-of-the-bride got up, things began to go off the rails. Several times, the mic cut out on him, because the batteries were failing. This unnecessarily extended his already interminably long toast, and as the saying goes, the natives were getting restless.
[For the record, we always install fresh batteries before events.]
In all, the three toasts dragged on way too long, and the guests were itching to get on to the dance floor.
The best wedding toasts are concise
We've seen enough wedding toasts to know that the best toasts are concise and occasionally a little quirky, because each love story has its own quirkiness.
So if you're ever honored to give a wedding toast, here's how to give a nice little weird wedding toast that will delight every single guest:
"Ladies and gentlemen, saints and sinners, I am honored to offer a toast for this delightfully quirky couple. I've been friends with 'John' [the groom] for many years, and let me tell you: he's an odd duck.

He is kind, funny, and loyal to a fault. In this day and age, in which kindness, humor, and loyalty are in such short supply, I find these character traits highly unusual, and quite admirable in my friend.

And as for 'Mary' [the bride], she's an odd duck in her own right. After all, she thinks of others ahead of herself. In this interesting age in which so many wear their greed and narcissism on their sleeve, her sheer humanity towards others is such a breath of fresh air. Odd indeed, and totally delightful.

So I guess what I'm saying is that these two characters are each a little weird and a perfect match.

One of the greatest philosophers of our age, Dr. Seuss, summed it all up like this:

'We are all a little weird, and life is a little weird. And when we find someone whose weirdness is compatible with ours, we join up with them and fall into mutually satisfying weirdness and call it love.'

There is no doubt in my mind, or in the mind of anyone present in this lovely hall, that this broken world has just gotten a little bit better with the union of these two odd, beautiful people.

Would you please raise your glass and join me in honoring this inspirational couple, John and Mary. May God richly bless your marriage!"
Two minutes. That's all it takes to make a weird wedding toast that'll warm hearts at a wedding.
You know what else takes two minutes? That's about how long it'll take for you to click here and check our availability. We specialize in weddings, but we get booked well in advance. We're worth a two minute investment for you to learn more about Five Star Entertainment for your upcoming Fayetteville wedding.