What is the perfect length of a wedding toast?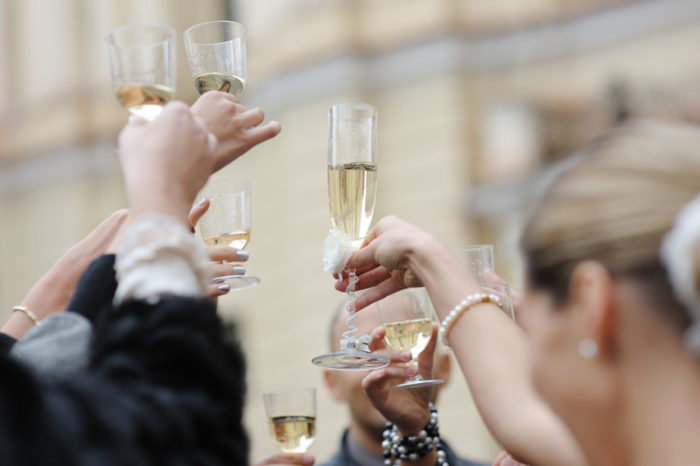 A good wedding toast makes the bride and groom and their guests laugh and cry in a matter of minutes, so the perfect length of a wedding toast is just a few minutes. When you see eyes begin to glaze over, you know that the length of a wedding toast is too long.
You can call upon a number of guests to give toasts including:
√ the best man

√ maid of honor

√ father of the bride

√ father of the groom

√ the mothers

√ additional family and friends designated by the bride and groom.
The more toasts, the more concise each one should be. The reason is self-evident:  if you have 4 different people each give a ten minute toast, that's forty minutes your guests could have spent on the dance floor.
On the other hand, if wedding toasters each give a three minute toast, that's just twelve minutes, which will sit just fine with your guests.
Some wedding magazines disagree. Wedding Ideas Magazine says the optimum length is ten minutes. They haven't seen as many toasts as us, so trust us: ten minutes can really, really drag. A well-written and rehearsed three minute toast is a toast your guests will greatly appreciate!
Wedding Ideas Magazine toasting info
Wedding Ideas Magazine has a few other interesting observations on toasting:
When it comes to the traditional line-up of speeches, 3 isn't a crowd.
57% of couples prefer to ditch tradition and hold the speeches before dinner.
Grooms should dedicate at least 3 minutes of their speech to their bride.
1 toast will round off each speech perfectly, so long as it's addressed to the right people!
Only 28% of people love the new tradition for

 brides to give a speech

.
Jokes from the best man could fall flat, with 36% of people voting that the speech should only include one!
Just 1 mention of an ex-partner is considered too many.
So from Five Star Entertainment's view, three minutes is the perfect length of a wedding toast for your Fayetteville wedding celebration.