The Advantage of a Last-Minute Wedding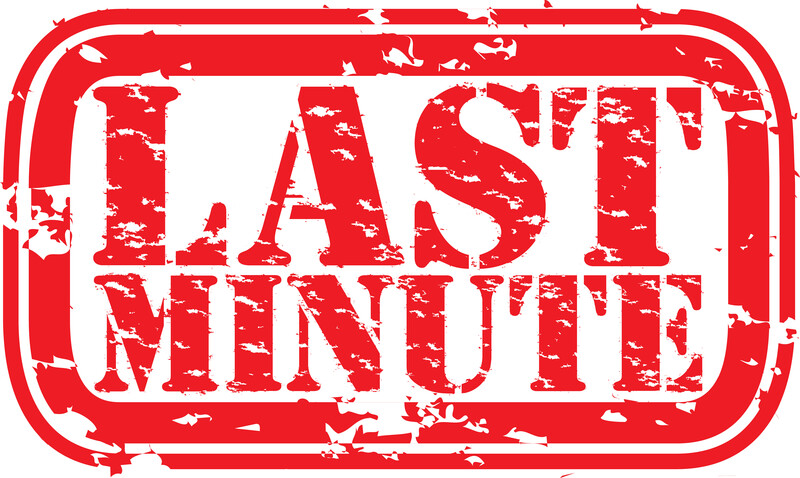 Conventional wisdom states that couples should begin planning their weddings at least a year in advance of their wedding date. It makes good sense, and most people reading this blogpost should abide by it. But there IS a case for a last-minute wedding.
Readers of this blog notice that we frequently say that popular wedding dates book up fast. They do. That's why couples typically plan a year in advance to snag the date they really want, even though they are probably paying a premium price to secure that date.
But suppose you don't play that game. Suppose, for whatever reason, you find yourself planning your wedding two months out or so.
Maybe it's because you want to move up your affair to accommodate a seriously ill grandparent who may not be around in a year.
Maybe it's because you're disorganized.
Or maybe it's because you were planning a simple civil ceremony, and changed your mind last minute and decided a bigger party was warranted.
Save some money
Whatever the reason, you might be able to save some money because you have more bargaining power with vendors trying to fill unpopular open dates. According to The Knot:
"Since most people book their wedding venues at least six months in advance, calling for open dates two months prior to your desired time can save you up to 25 percent. And, Friday and Sunday weddings should cost about 30 percent less than Saturday weddings."
Obviously, this creates a crash-planning scenario you might want to avoid. On the other hand, you might be very content to simplify your affair and cut back on aspects less essential to your core mission: to celebrate the biggest day of your life with flair.
What is the easiest way to pull off a wedding celebration everyone remembers? With great entertainment. That's what Five Star Entertainment is all about. Whether your affair is planned out a year in advance  or a last-minute wedding, we'll make it a party for the ages.
It's really that simple. See what we mean. Click here to see if we have the last-minute wedding date you're looking for.